During the second week of the school holidays, Nota Bella Junior Choir was privileged to be part of Choirs Aotearoa New Zealand project 'Carmina Burana'.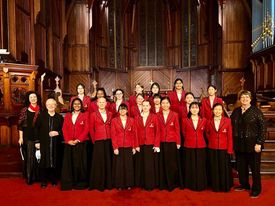 From July 21 – 23, singers from the three national choirs (New Zealand Secondary Students Choir, National Youth Choir and Voices New Zealand Chamber Choir), gathered together at the Holy Trinity Cathedral in Parnell. The choir of 120 was joined by two pianists and six percussionists and the work was conducted by Dr Karen Grylls, Artistic Director.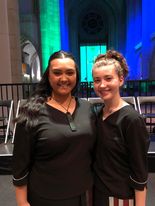 Nota Bella (conducted by Elise Bradley, and pictured above) was invited to sing as the Ragazzi (children's choir). The bass soloist was James Harrison who teaches singing at WGHS and is the vocal consultant for Cantare and Choralation choirs. The soprano soloist was Natasha Wilson, who attended WGHS and sang in Key Cygnetures choir with Elise Bradley.
It was an amazing concert on the Saturday night and many Westlake alumni were singing, both staff and students, including our current HOD Music Fiona Wilson and past HODs Rowan Johnston and Elise Bradley.
Two students Bella Allan-Moetaua (Year 12) and Madi Jagger (Year 13), both pictured right, are current members of the New Zealand Secondary Students Choir.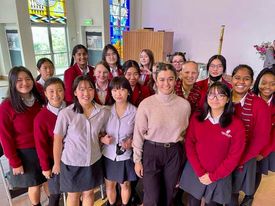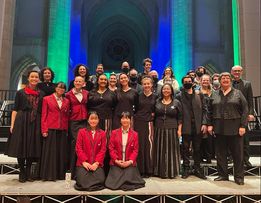 Natasha Wilson is pictured with students from Nota Bella (left) and on the right are students, staff and alumni from WGHS.