On Thursday, September 14, we took a group of Year 10 STEAM students to a Shadow Tech experience at Amazon Web Services to explore tech careers.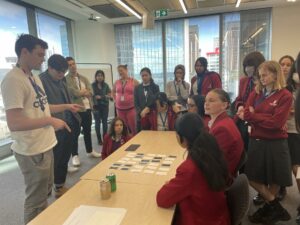 The Shadow Tech programme gives our young learners a glimpse into the dynamic world of the tech sector. This experience aims to inspire and encourage them to explore educational pathways that can lead to fulfilling careers in the tech industry. This hands-on experience allows our students to see the real-world applications of their studies. It inspires them to consider tech-related career paths.
There was an exciting agenda, with activities designed to give a first-hand experience of Amazon's culture of innovation. The students learned about roles in the technology industry through a speed dating-style session comprising small group conversations with Amazonians from various teams, a panel discussion on early careers in tech, and an office tour. Students experienced hands-on problem-solving with software engineers.
Students also had the opportunity to also see the Design Thinking process that we use in STEAM used to solve real world problems for Amazon customers and got an opportunity to apply their 'working backwards' process. Susana Tomaz, STEAM Coordinator.
"We embarked on an educational trip to Amazon Web Services, eager to delve into the inner workings of the tech industry and the design process. The office buzzed with activity, a testament to innovation in action. Welcomed by knowledgeable professionals, we received a detailed walkthrough of the design journey that fuels each of Amazon's technological success. From conceptualization to execution, we gained invaluable insights into the meticulous steps involved. This hands-on experience left us with a deeper understanding and a newfound enthusiasm for the world of technology." Rosa Morris Year 10 STEAM student.

"We learnt a lot about the variety of jobs in the technology department. All those Amazonians' career pathway stories inspired us to be open-minded about different options available for the future. They reminded us to be aware of the changing world of technology and the flow of changing job opportunities. And that we have to learn to adapt to new challenges that come our way. We also learnt different approaches to problems like the working backwards system. Overall the trip was an unforgettable experience and opportunity that we took so much from." Sol Lee and Summer Morgan, Y10 STEAM students.