To buy uniform items, please see the attached flyers for details of shop opening hours.
Thursday, 22nd September 2023, is the last day of trading for Term 3, 2023.
Please note that the shop is open for 2 days in the second week of Term 3 School Holidays:
Thursday, 5th Oct: 3.00 pm – 6.00 pm.
Saturday, 7th Oct: 10.00 am – 2.00 pm.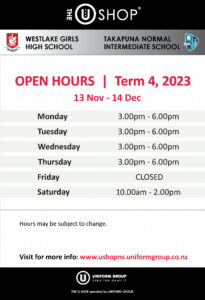 The Uniform Shop. 54 View Rd, Wairau Valley.  Online: https://ushopns.uniformgroup.co.nz/