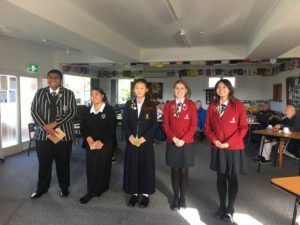 Congratulations to Year 12 students Isabella Drummond (pictured above left) and Kirsten Abustan (above right) who participated in the Auckland finals of The Lions Club Young Speechmakers' Competition on 11 June. Isabella and Kirsten placed First and Second respectively.
Isabella spoke on leadership from a Māori and Pakeha point of view and Kirsten on corruption in a country and to keep ourselves aware in this country.
The National Finals will take place in Palmerston North on Saturday 13 August 2022. Hillcrest Lions Club was proud to sponsor our students.
Isabella (second from right) and Kirsten (right) are pictured with finalists from other schools.