Year 10 Student Comes 4th in Motocross Nationals!
Sophie Bockett (10HSG) placed 4th in the 2023 2-Stroke Nationals at Ōtorohanga on 16-17 September. She beat Junior Women's Class riders (aged 8-16) from all over New Zealand. The overall event included riders of all ages, including many riders on beautiful vintage bikes. The last time 2-Stroke Nationals took place in New Zealand was in 2014.
2-Stroke events are held on natural terrain paddocks rather than artificially made motocross tracks with high jumps and cambered corners. This one took place at Ōtorohanga. Sophie describes the track:
"It's natural terrain, dark soil. It's a maize paddock, so we rip it up for the farmers so they can plant their corn in it. It's flat, it's awesome, you just drift around the corners, it's so much fun."
Sophie was introduced to motocross when her brother was given a bike. She rode it more than he did, and a great love was born. She now owns her own, which she rides whenever she can.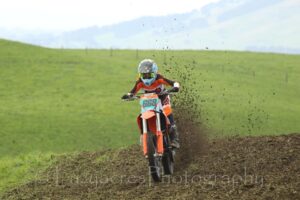 Describing the feeling of being on a dirt bike, Sophie says:
"It feels like there's no one telling you what to do, there's no stress, it's just you and your bike, going as fast as you can!
Congratulations, Sophie, you're amazing!