By Susana Tomaz, STEAM Coordinator and ASL for the Te Kāhui Ako o Pupuke
The Te Kāhui Ako o Pupuke STEAM Power-ED Community Event took place this Thursday in our Event Centre. The event involved the participation of 70 tamariki from our 5 Primary and 2 Intermediate Schools. 
There is significant research highlighting an under-representation of Māori and Pasifika students, and girls undertaking further studies in STEAM and leading to careers in these fields. This event seeked to provide an opportunity for these learners to engage with STEAM concepts and provide a professional development opportunity for accompanying teachers.
The Westlake Girls STEAM students, STEAM alumna students and Westlake Boys Students led the hands on workshops. The mission" Journey to Mars" focused on Mātauranga Māori, through pūrakau (storytelling), and with a futuristic twist. All 70 crew members were required to collaborate and solve several STEAM challenges while on board of their spaceship on their way to Mars. Students were required to use their STEAM knowledge and skills developed in the STEAM programme and further consolidate on this, while being a positive role model for our younger tamariki.
Here is the  video which introduced the challenge and context through the voice of Māui. A big thank you to Mātua Eddie, Anahera Petera and Emma Jane Toi for helping developing the storyline around Māui grandmothers, Mahuika, the great goddess, or atua of fire and Murirangiwhenua, a wise woman with the jawbones of knowledge and the important part they played in empowing Māui to become a great STEAM pioneer.
A big thank you to Michael Wassel from Westlake Boys for being the voice of Commander Māui.
To better understand the impact this event might have we have partnered with Professor Kathryn MacCallum from the University of Canterbury | Te Whare Wānanga o Waitaha (UC) to carry out a short evaluation. The purpose of this study is to better understand learners' experiences and perceptions of STEAM, especially Science and Technology careers and to determine the impact of the event as well as inform on future planning.
As part of their feedback students were asked to draw a picture of someone working in STEAM. Here are sone examples of what they drew and had to say …
Year 6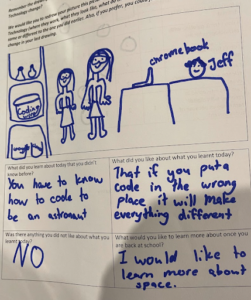 Year 7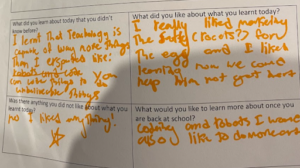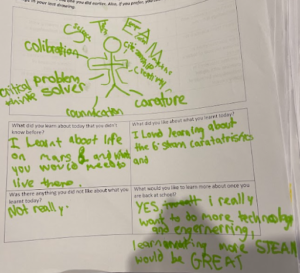 Year 8