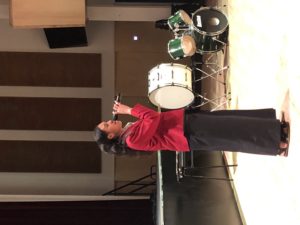 The Year 9 Music Academy is our extension Music cohort who were selected at the beginning of 2022 to participate in the programme. Over the past 3 terms, the students have been developing their musicianship skills by learning and playing in a range of ensembles, extending their knowledge through researching a range of historical musical styles, composition and progressing with their theory and aural literacy.
We finished off the 9 Music Academy course this term with a Supper Concert on Tuesday 6 September. Parents, friends and family were able to come along and see the students' hard work through the performance aspect of Year 9 Academy, and hear the Orchestra, Vox choir and some of the smaller ensembles from Term 2 showcased. At the end of the concert, everyone was invited down into the Music Department for a hot beverage and to share supper to celebrate the student's success.
A huge congratulations to all of our 9 Music Academy students this year. We are proud of your work and commitment to the course and our co-curricular Music ensembles that you have been part of in 2022.
Applications are still open for our 9 Music Academy programme for 2023. Please apply via the following link: https://forms.gle/KLXLBfDTq9hWtHbi7