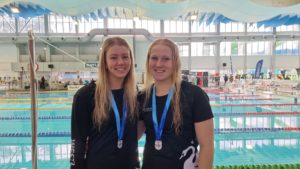 Golden Girls, Zoe Crawford and Savannah-Eve Martin (Zoe on the right of the image and Savannah-Eve left) led the Westlake Girls team to 6 medals at the recent New Zealand Secondary Schools Swimming Championship in Hamilton.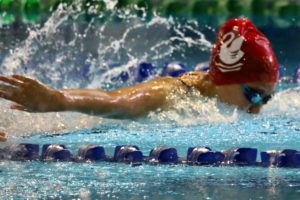 The exhausting 4 day event rewarded the 11 strong team with some fantastic swims culminating in a medal haul of 2 gold, 2 silver, 2 bronze medals, plus a string of personal best times.
Savannah-Eve Martin, Westlake Girls Intermediate swimming champion, opened the medal haul with a Silver in Girls Under 16 100m Backstroke and a  personal best time of 1.02.08 before adding a bronze medal for the 50m backstroke.  However, it was her performance in the 50m Butterfly that had the team on their feet.  Starting as the underdog, Savannah-Eve surged forward from the outside lane to win Gold in a 28.78, another personal best.
Westlake Girls Senior Swimming Champion, Zoe Crawford, and member of the New Zealand Junior Swim team won Gold in the Girls U17 200m Backstroke with an impressive personal best time of 2.11.45. Zoe also won bronze in the 100m Backstroke with another personal best.  All heart pumping performances but the most heart-felt performance came from the Open Womens 8 x 50m Relay Team.  Ranked 5th going it the event, each member of the Westlake team knew that it would take a mammoth effort to reach the podium so they dug deep, swam hard and delivered some of their fastest performances to win Silver.
Congratulations to the relay team of Zoe Crawford, Doyoun Kim, Lena Hamblin-Ough, Julia Kim, Annabel Van Wyk, Mia Stanley Hunt and Savannah-Eve Martin (pictured below).