Westlake Girls High School rowing squad of 60 competed with 30 other schools across 108 races at the Auckland Rowing Championships (Head of Harbour) on Saturday 15 February.
While battling tricky water conditions the squad performed extremely well, ultimately being named girls school points champion and finishing second overall. Collecting three Gold, five Silver, seven Bronze and a further five first place finishes in Division Two and Three, Westlake Girls was the only school  to medal in all five age group eights and the under 15 octuple! This is the first time in the school's history we have managed to achieve this!
Racing highlights included Gold in the Girls U-16 and 17 eights, and a closely fought second place in the Premium Girls Event – the Girls U-18 eights.
The squad now turns its attention to the North Island Secondary School Championships being held at Lake Karapiro in March.
Pictured above: The Girls U-18 eight squad from left: Scarlett Kerse, Sofia
Greenhalgh, Nyla Bunyan (Captain), Devon Thorpe, Kate Staines, Caitlin Rawlings, Sylvia Leadley, Olivia Anderson, Coxswain Jamie Whittaker.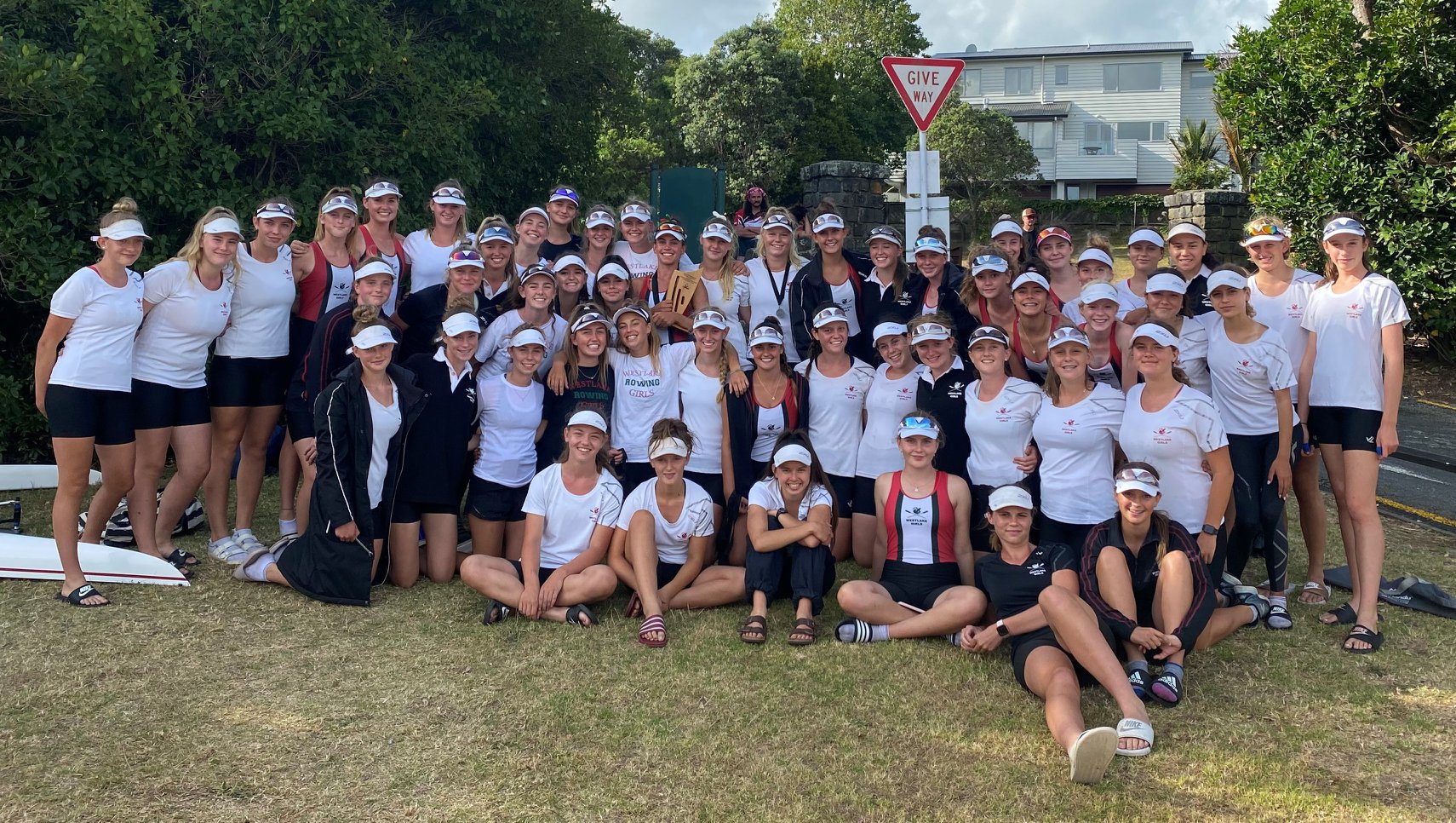 Pictured above: The full rowing squad.
| | | |
| --- | --- | --- |
| EVENT |                                                    CREW | RESULT |
| G U17 4+ | Caitlin Rawlings, Kate Staines, Oliva Anderson, Billie Insull + Emma Patterson | 3rd Div1 |
| G U17 4+ | Hollie Marshman, Katie Booth, Trixie Andrew, Abbie Clements + Charlotte Ram | 1st Div2 |
| G U15 4X+ | Ayla Holmes, Sophie Dykgraaf, Grace Marshall, Coco Mauger + Jamie Whittaker | 3rd Div1 |
| G N18 8+ | Eva Dykgraaf, Claudia Pilkington, Georgie Shotter, Taylor Penberthy, Cailtin Naude, Coco Mauger, Abby Hollins, Pallas Baker + Jaime Hanrahan | 3rd Div1 |
| G N18 8+ | Freddie Clements, Safra Wohlfarth, Mikayla Don, Isabelle Barrett, Maia Abbott, Isabella Holt, Jessie Jamieson, Harriet Gowing + Tessa Guthrie | 1st Di 2 |
| G U17 4X+ | Bianca Coplestone, Kira Gerth, Maddie Kerse, Stella Harkin + Emma Patterson | 3rd Div1 |
| G U15 4+ | Eva Dykgraaf, Taylor Penberthy, Caitlin Naude, Pallas Baker + Eva Todd | 2nd Div1 |
| G U18 2- | Devon Thorpe, Sylvia Leadley | 3rd Div1 |
| G U16 8+ | Scarlett Kerse, Sofia Greenhalgh, Hollie Marshman, Sophie Dykgraaf, Georgie Shotter, Abbie Clements, Ayla Holmes, Claire Snelling + Charlotte Ram | 1st Div1 |
| G U15 8X+ | Ayla Holmes, Coco Mauger, Grace Marshall, Caitlin Naude, Sophie Dykgraaf, Eva Dykgraaf, Taylor Penberthy, Pallas Baker + Mackenzie Harvey | 2nd Div1 |
| G U18 1X | Sylvia Leadley | 3rd Div1 |
| G U18 1X | Nyla Bunyan | 1st Div2 |
| G U17 8+ | Caitlin Rawlings, Kate Staines, Sofia Greenhalgh, Billie Insull, Hollie Marshman, Scarlett Kerse, Trixie Andrew, Katie Booth + Emma Patterson | 1st Div1 |
| G U16 4+ | Clarissa Kruger, Sophie Lean, Mikaela  Williams, Cassidy Luff + Jaime Hanrahan | 1st Div2 |
| G U17 2- | Billie Insull, Caitlin Rawlings | 1st=Div1 |
| G U17 2- | Sofia Greenhalgh, Scarlett Kerse | 1st=Div1 |
| G U18 4X+ | Olivia Anderson, Sylvia Leadley, Devon Thorpe, Nyla Bunyan + Jamie Whittaker | 2nd Div1 |
| G U15 8+ | Ayla Holmes, Coco Mauger, Grace Marshall, Sophie Dykgraaf, Caitlin Naude, Taylor Penberthy, Eva Dykgraaf, Pallas Baker + Mackenzie Harvey | 3rd Div 1 |
| G U15 8+ | Abby Hollins, Isabelle Barrett, Freddie Clements, Safra Wohlfarth, Mikayla Don, Isabella Holt, Jessie Jamieson, Harriet Gowing + Eva Todd | 1st Div 2 |
| G N18 4+ | Georgie Shotter, Claudia Pilkington, Abby Hollins, Safra Wohlfarth + Eva Todd | 2nd Div1 |
| G U18 8+ | Olivia Anderson, Sylvia Leadley, Caitlin Rawlings, Kate Staines, Devon Thorpe, Nyla Bunyan, Sofia Greenhalgh, Scarlett Kerse + Jamie Whittaker | 2nd Div1 |