By Ivy Mitchell
Head Prefect
This year Ella Dorward, the Deputy Head Prefect and I along with the five House Captains, Lucy Jobbins, Tallulah Salmon, Aimee Euston-Stewart, Ella Borrie and Holly Williams were super excited to host the first Head Prefects gathering between the local schools.
On Friday 6 May, the Head and Deputy Prefects from Westlake Boys High School, Carmel College, Rosmini College, Long Bay College, Takapuna Grammar School and Rangitoto College came together to discuss prefect experiences, listen to inspiring speakers and most importantly, connect as a group!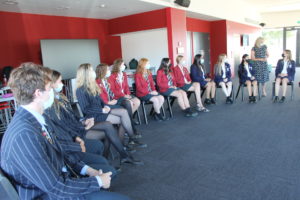 Ice breaker activities quickly introduced everyone to the group and it was inspiring to be surrounded by a group of eager, enthusiastic and driven young people who were all so passionate about their school. We were privileged to listen to guest speakers Jeff and Adine Wilson, former New Zealand rugby, cricket and netball representatives and leaders.
They gave insightful and inspiring advice on their experience as leaders, which was particularly empowering for our own leadership journeys. Meaningful conversation about prefect initiatives and projects followed a very delicious afternoon tea.  The opportunity to connect, share and bounce off these ideas was wonderful as we heard how the different Head Prefects were tackling and embracing their roles in their respective schools. And of course, the afternoon ended with a very competitive game of 'snap' between the schools. Sadly, Westlake Girls did not manage to win the snap game, and had to settle for second place after being beaten by Long Bay!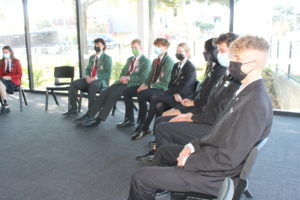 The ability to host the event in the foyer of our new Event Centre was incredible as it was lovely to be able to showcase the brand new space. Everyone left the afternoon buzzing, with the other schools saying they are keen to hold the next event! Personally, I found it super inspiring to be surrounded by a group of zealous young leaders. Both the House Captains, Ella and I are so looking forward to the upcoming term and the prefect get together has added more fuel to our fire of wanting to be compassionate, fair, respectful and excellent leaders for the school community.
And lastly, a big thank you to our Deputy Head Prefect Ella Dorward for organising this incredible event that we all gained so much from.