On Wednesday, 13 September, we held our first Te Pupuke Kāhui Ako breakfast, providing an opportunity for students and parents to critically engage in conversations that enable us to best prepare our young people for the ever-evolving world in the era of AI. We were extremely grateful to Frances Valintine CNZM for her willingness to offer her time and expertise as our guest speaker at our Parent-Child Breakfast Event on the topic 'How to prepare our children for an AI-powered future, together?'. Frances' remarkable knowledge and insights ignited the vital discourse on generative AI with our Te Kāhui Ako o Pupuke parent/student community. 
"Should we be teaching kids about Generative AI in schools? It seems essential that we do as it will be such an important part of their lives. I will be up-skilling my own knowledge on the topic as well." Kāhui Ako parent.

"Fabulous, thought-provoking presentation. Very up-to-date information and incredibly timely as I have three teenagers, and career options are extremely relevant to understanding the right direction." Kāhui Ako parent.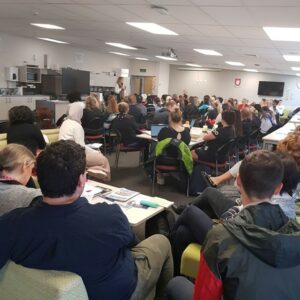 If you're interested in learning more, feel free to email Susana Tomaz @[email protected]