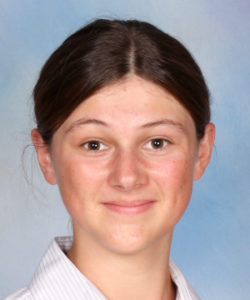 A lot of students have fun summer plans to look forward to – but Ivy Doak has something extra special planned for January 2023.
Ivy, a STEAM student in Year 12, has been accepted into the University of Canterbury's (UC) Women in Engineering residential programme and will head down to Christchurch for the 5 day, 4 night adventure from 15-19 January.
There are only 60 places available nation-wide for the programme, which includes interactive workshops, inspiring presentations and fun social activities. Participants stay onsite in Halls of Residence, are immersed in student life, and experience a range of engineering subjects on offer at UC.
Here Ivy runs us through how and why she applied.
How did you hear about the programme and why did you apply?
I discovered the programme while researching engineering courses on the University of Canterbury website, and I was immediately drawn to it because I thought it would be a great opportunity to learn more about studying engineering and meet the engineering faculty at Canterbury, as well as because it is completely targeted at female students.
What was the application process like? 
The University asked applicants to give a commentary by text or video in less than 300 words or 3 minutes outlining why they should be chosen for WiE CAN in 2023. The other major components of the application form asked for a teacher reference, as well as a summary of academic achievements and relevant extra-curricular activities.
When did you hear you had been accepted?
I received an email to say I'd been accepted on 31 August.
What do you hope to get out of the experience?
It's a unique opportunity to try the different disciplines of engineering and experience life as an engineering student at UC. I'm looking forward to hearing from women in STEM about their experiences and hopefully connecting with other like-minded students too.
What part did STEAM play in motivating you to apply for this programme?
As part of the STEAM programme, my eyes were opened to the numerous applications of discoveries in the STEM field to real-world problems. I loved the connections we were able to make between subjects, and the many different projects we undertook that used scientific principles to achieve a goal. Particularly, I enjoyed developing logical reasoning, problem solving and critical thinking skills – and through some of the talks and presentations we attended as part of the STEAM programme, I discovered the possibility of a future in engineering. It was inspiring to see a growing number of women entering STEM fields.
What are your future study and career plans?
My plan is to study a mechanical engineering degree with a view to entering the STEM field – with a particular interest in robotics and aerospace.
Ivy is pictured top with her Westlake STEAM cohort.