Westlake Girls Intermediate Swimming Champion, Savannah-Eve Martin, continued her stellar season in the pool with another impressive medal haul at the New Zealand Short Course Swimming Championships at the National Aquatic Centre in Auckland.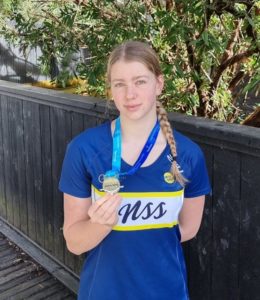 The Year 12 student swam 16 races over 5 days to win 3 National Age Championship titles (Girls 16yrs) and achieve personal best results nearly every time she hit the water.
Each day she manifested a reason to celebrate.  Savannah-Eve began the event winning the National Age Group (16 Yr) 100m Backstroke title on Day 1, and it propelled her into the New Zealand Development Squad.
On Day 2, Savannah-Eve celebrated her second Gold medal in the (16 Yr) 50m Butterfly, winning the final from Lane 8 before going onto to win Bronze in the (Girls 16 Yr) 200m Backstroke.
On Day 4, she enjoyed a comfortable victory in her favourite event, the (16Yr) 50m Backstroke, where she is ranked #1 in her age group.  However, it was Savannah-Eve's Bronze medal swim in the Open Womens 50m Backstroke final that placed her at #3 across all age groups in the country. An amazing swim meet for the young champion.