Being good with numbers is one thing, but being as good as Elaine Zhou is a whole different thing altogether!
The Year 10 student was recently announced as one of the top 30 maths students in New Zealand for her year level – the second year in a row!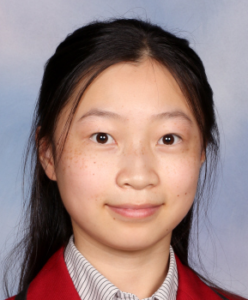 The result is from the Otago Maths Competition which is a two-round competition for students in Years 9-11. Last year Elaine entered and scored 71 out of 73 in the first round. "I then progressed onto the second round which was a paper exam," she says. "I ended up placing in the top 30 in Year 9 which came as a big surprise."
Boosted by last year's results, she undertook the challenge again this year, finding it a little harder in Year 10. "The round was online and consisted of 80 multi-choice or short-answer questions, testing various maths skills. Then the top 15% of candidates progressed onto the second round which consisted of full-length exam questions. These questions are mostly based around playing with numbers and there is a strong emphasis on problem solving," she says. "I found out that I was placed in the top 30 at House assembly on 7 September. I was actually very surprised because I thought that I hadn't done very well. I had been struggling to understand some of the sections in the exam, and ended up running out of time before completing all the questions."
The talented mathematician originally competed in the Otago Problem Challenge in Year 6. "I really enjoyed it and did very well – I think I placed in the top 1% and got some prize money too! I continued to participate up until Year 8. Then at high school in Year 9 I heard about the Otago Maths Competition from my Form Teacher and decided to enter it because I thought it would be quite similar to the Otago Problem Challenge, which I really enjoyed."
Elaine says she enjoys the logic of mathematics. "I like how you can find many patterns within numbers, and I really like finding out how numbers change when do things to them."
As for the future? "I'm not really sure where my journey in maths will take me," Elaine says.  "I think that my focus has always been to do these competitions because I find them interesting and fun, so I've never really pressured myself to do things. I usually sign up for competitions that pop up and seem interesting.
"I'm also studying AS mathematics outside of school which has been really challenging for me and has exposed me to a lot of harder content. I think I want a career that involves mathematics in some way but it's been quite hard for me to make up my mind. A lot of careers involve maths in some way but my goals are always changing."
In the meantime, Elaine will continue to be a shining star in Mrs Smolko's STEAM maths class!
Elaine is pictured with (from left) Sue Higgins (Head of Westlake's Maths Department), Katie Pearson and Will Anderton (Akoranga House Deans).